Keen to start an indoor garden but feel restricted by your budget? Clueless about where to spend and where to splurge?
Look no further! My research has uncovered 15 DIY LED Grow Light guides. You'll be thrilled to discover lighting is the one area you can really save on, without cutting corners or jeopardizing your yields.
Me personally, I like to splurge on my growing medium and my nutrients. Only the best for my "darling buds of May".
LOL! But as for the other essentials like effective light and economical space, I have found loads of budget options when it comes to grow tents, lights and containers.
And LED grow lights are cost effective and simple to install.
Remember my motto: Reduce, Reuse, Recycle.
DIY LED grow lights are an affordable and environmentally viable way to go when it comes to your grow light options. And as you know you can't grow without adequate light.
From the vegetative growth cycle to the budding and fruiting stages, lighting is essential for healthy, bushy plants and increased yields.
LEDs available nowadays, for indoor growers, are designed to accommodate the different growth cycles. They come in different hues, so plants still get their correct dose of red/blue light.
And another bonus is that the LED grow light options can be installed by complete beginners. If you can read and follow instructions you will, very easily, install your DIY LEDs and get your grow on!
Why Use LEDs?
Before I give you the list of guides you can follow to create your own grow light setup, let's first talk about why using LED grow lights is the better option.
The truth about LEDs (Light Emitting Diodes) is that it runs cooler than other lights. It's energy-efficient and longer lasting. An LED can last up to 50,000 – 70,000 hours and after that, the strength of its light will only be reduced to 30%.
Now since we mostly have our grow lights on, this is what really works best. You won't have to worry much about expensive electricity bills just because you plant indoors.
LEDs come in different colors, and for grow lights, the hues red and blue are very important for the growth of plants. The blue lights help improve your plants' chlorophyll production, which is vital for photosynthesis.
Basically, it helps your plants absorb enough light for growth. For red grow lights, this usually comes in different hues. Some are dark red, while some almost look purple or pink in color.
No matter what shade of red your grow light is, this is very important during the flowering stage. So if you have flowering or fruit-bearing plants, make sure that you use red lights.
DIY LED Grow Lights: On A Budget – Choose from 15 Easy-to-follow Guides
So it is pretty much a no-brainer to switch to LEDs or, if you are starting out, to install LED grow lights from the word go.
Without further ado, below are the 15 DIY grow light setup guides to help you choose what will work best for you, and your budget!
1. LED strip Lights powered by a computer power ($35 LED Grow Light)
This is one of the simple setups that you could do. You only need LED strip lights, a panel where the lights will be mounted, and a computer power box.
You may use LED strip lights made for growing (they come with red/blue hues) or regular light strips.
But I suggest you use the relevant strips and keep the regular strips for the rest of your house. If you are going off-grid, LEDs can be charged with 12v batteries and solar panels.
This makes your grow room even more economical to run. (We'll do a piece on how to use solar in another article.)
Your panel could be as big as you desire, but of course the bigger it is, the more LED strips you'll have to use.
For this project, you'll need basic electrical knowledge to be successful because there are a lot of wires to work with, especially since you have to connect this with a computer power supply.
If you only have a grow space like a 5×5 tent, creating this lighting set-up can cost you less than $35. If you plan on using a 5m light strip, this will require 60W of power, which is not really bad.
Don't get intimidated with this guide if you don't have any experience with electrics. This guide is fairly easy to follow!
2. Using 3W LED's Housed in Aluminum
Now the number of 3W LEDs you'll use here depends on how big your grow area is.
Instead of using metal or wood, you can use an aluminum panel for this setup.
The panel should at least be 1.5 mm thick.It's always better to make the housing big so that the light would spread out better.
This is powered by a voltage regulator to ensure that only the right amount of voltage will pass through the setup.
What's good about this write-up is that it's very specific and easy to understand. Instead of just giving out the steps, explanations were also given as to why they are necessary. This is great for seedlings as a substitute for a T5 grow light.
3. 108 assorted LED Lights on a 3-Ft. Makes LED Heatsink
All in all, this DIY LED grow light panel fluctuates between 309 and 3011W. This requires an intermediate skill level for you to be successful when it comes to assembling.
The LED lights are epoxied on the heat sink and connected with varying stranded wires.
This will be powered by a 24V power supply. The instructions are pretty specific and easy to follow. This has pictures that you can use for reference.
4. 50W LED Grow Lights Setup
This setup consists of 50 LED's with varying size and wattage. This requires knowledge on how circuits work. The LED's are placed on an aluminum heat sink with the use of thermal glue.
Overall, this requires 50W and is cooled by an 8cm diameter fan. The steps on this are fairly simple for anyone that has a basic knowledge of circuit boards and current.
For complete novices this guide may take a bit more effort to figure out how to set it up, but thanks to you tube, even novices can get a crash course on circuitry.
5. Grow Light Setup using LED bulbs
​Unlike the usual setup with just small and colored LED grow lights, this setup also makes use of two light bulbs that should be good enough for a 2×2 grow space.
Only 5 LED lights were used here. Four 2700K red lights and 5000k blue/green light.
The person who designed this setup did some good research when it comes to how much red and blue light is needed for the space.
This is a fairly detailed DIY post with enough background to get you started with understanding how LED grow lights work. The cost for this setup is said to be less than $500.
6. 160W LED Grow Lights Setup for a 2×2 Grow Closet
The total LED bulbs used in this setup is 6 with 27W each. This also makes use of aluminum housing. You'll need to drill holes in it for the wiring and the light sockets.
This guide is direct and easy to follow with its illustration pictures. It's a fairly small setup. It focuses on a setup for a 5×5 grow space, it will also teach you how to estimate the number of LED's you will need if you have a bigger or even smaller space.
7. LED Grow Light setup with wire shelving and timer for Starting Seeds Indoors
In this DIY guide, a three-level wire shelf was used to house the setup. The LED grow lights were tire wired to the shelf.
This guide doesn't really include much specific as to what wattage the setup runs on so if you are attempting to copy this, you have to already have an idea as to how many LED's you will use.
This setup is different because it uses a power strip with a timer so that you won't have to worry about having to turn the grow lights on and off when needed.
8. 108W LED Grow Light Panel
This setup requires 36 LED grow lights in different hues. Each LED light strip only runs on 3W. A metal panel was used as the housing, so prepare your drilling tools.
You'll also need thermal glue to stick the LED's on the panel. The cooling fan used for this is the one that you can find in a CPU and for its power supply, a transformer from a fan was used.
I'd say this is something pretty creative. The instructions on this guide are simple and detailed.
9. Cheap DIY high power COB LED grow light
The housing used for this is an aluminum heatsink. What's good about this guide is that both small and large grow areas were explored when it comes to what setups works best.
If you want something that looks easy on the eyes, then you can follow the advice found here. Making sure that the setup looks neat is evident on this guide.
The person who wrote the guide used 25W per square meter but suggested that this can still be increased if you're sure that you can keep up with the feeding and watering.
10. 15W LED Grow Light Setup in a Tub
At the start of this guide, the designer already disclosed that this is not for people who only have limited knowledge in electronics.
The setup is considered high-powered so it could be a bit dangerous.
Now even if this is for people with intermediate skills, this guide is very detailed and has illustrations of what needs to be done. You can really tell this is from someone who knows what he's doing as it comes with detailed sketches.
11. High Power LED grow lights with a Zip-tie lamp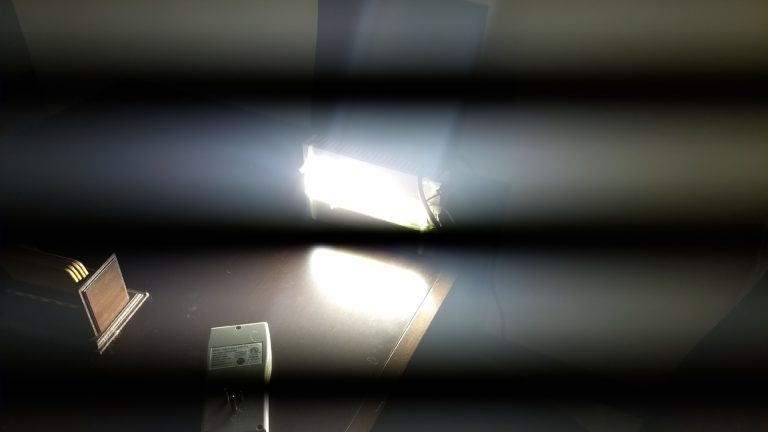 This setup consists of a 150W white COB LED light, a fan, and zip ties put together on a heatsink. It definitely is high-powered because when you have two of the lamps used here, it's possible that you'll have to run it with about 450W.
The lamp used here costs less than $80. So the whole setup shouldn't really cost you more than $200. Overall, this is a fairly easy guide to follow. If you're just starting with working on electrics, this could be something for you.
12. 8x 450 LED Grow Light Setup
As said on its title, this setup runs on 450W. What's great about this guide is that it is actually a video on YouTube.
This makes things easier if you're not into following long written instructions. I'd say this is perfect for visual learners.
This setup also looks neat with its powdered aluminum panel which makes it durable. Aside from that, the grow lights used also come with a 24-hour timer, which makes this pretty much automated.
The best thing about this setup is that the panel has switches for easier control of the varying LED lights used.
13. LED Grow Lights Setup Using 4 COBs
This setup is powered by an HLG-320H-C2100A LED driver. What I love about this guide is how organized it is.
There are steps here that include videos, like how the wiring gets connected, which will make it easier for you to follow.
Interestingly, the designer of this setup basically shared how he made this, but he actually sells this for $450.
14: Grow Light Setup Using LED Tubes
This guide is great if you only prefer reading instructions with a few steps. This one only has 5 steps to follow and isl fairly organized. This setup also runs with a timer and a few light tubes and bulbs.
This is built with a metal shelf and is estimated to be finished after at least 30 minutes if you have good enough knowledge with electrics. Overall, this setup should only cost you $150.
15. LED Grow Lights Using Christmas Lights
​This does make sense since most LED grow light setups consist of multi-colored lights. This guide only talks about how this could be effective and what Christmas lights to choose so it's best if you already have a panel and power supply in mind.
If you really want to save a few bucks and prefer not to work with individual LED patches, strips, or bulbs, then this might work for you.
Things to Consider
There are definitely lots of DIY guides out there that you could follow to set up your own LED grow lights, but you really have to make sure that you know what would really suit your grow area.
Always consider your grow size area, the plants or crops you're growing, and the power wattage you prefer.
A very basic knowledge of how electricity works are all you need to set up your LED grow lights according to the guide that best suits your skill set and pocket.
Always make sure that you use safety equipment too since you'll be working with electricity.
If you're someone who is quite experienced with building circuits and schematics, then all of these should be easy for you.
In fact, if you're bold enough, why not create your own guide inspired by any of what's listed above?
Lindsey Hyland grew up in Arizona where she studied at the University of Arizona's Controlled Environment Agriculture Center. She continued her gardening education by working on organic farms in both rural and urban settings. She started UrbanOrganicYield.com to share gardening tips and tactics. She's happy to talk about succulents and houseplants or vegetables and herbs – or just about anything in a backyard garden or hydroponics garden.