Vermiculture and Vermicomposting are great additions to your homesteading repertoire of techniques. If you garden and have little space, these techniques allow you to produce the best quality produce with organic fertilizer in a small amount of space.
This is great for people who live in urban environments and anyone in general who likes to compost. Simply chuck in your food waste and keep it moist. The system takes care of itself.
Who Would Benefit from Vermicomposting
Literally anyone concerned with reducing wastes, conservation, and growing healthier crops would be interested in this technique. This includes homesteaders, conservationists, businesses, schools, government agencies, etc.
It's a massive waste management technique that benefits larger entities and municipalities. At the same time, you, the average homesteader, may be interested in growing healthier crops without the need for pesticides or chemical fertilizers.
Find out what Vermicomposting can do for you below!
What is Vermicomposting
Earthworms are the best little plows. They push through the Earth with their heads and make little tunnels in the soil and fill it with nutrients. The little tunnels loosen the soil so air and water can come in and promote root growth.
In the garden, earthworms love nitrogen-rich compost. They'll convert that to granular castings that make the soil dark and rich in nutrients.
They actually produce their weight in castings every day! The castings make great fertilizer and make it worth it to invest in vermiculture!
Vermiculture vs Vermicomposting
Vermiculture literally refers to the cultivation of earthworms. The functional usage for homesteaders is Vermicomposting. Through this, the earthworms produce waste rich in humus.
They eat manure, farm waste, and dirt and pass it through their body which turns it into vermicompost. This isn't just any compost though. According to ScienceDaily, it's five times more nitrogen rich, seven times more phosphorus rich, and 11 times more potassium rich.
It's success can be demonstrated in many studies. Studies found them to improve tomato seedling growth, produce clean compost, and compost food waste.
Urban Vermicomposting
Composting food waste is a HUGE asset, especially those in urban environments. It's great because these worms can eat any organic waste you produce.
This includes boxes, paper, etc. Basically, perishables. The worms will eat it and then produce nutrient-rich compost that you can apply to your garden.
When Should You Vermicompost
You can actually vermicompost year round. It's all about watching conditions. You don't want your worms to freeze or cook or drown.
These are the conditions you'll have to watch carefully. In other words, if it's 90 degrees out there, don't leave your setup in direct sun. If it's -10 degrees outside, you'll want to move your setup somewhere warmer, possibly even indoors.
Same with water; you don't want your worms to drown from over-watering of the soil, nor do you want them to dry up from the dry environment.
As you will see later, there are certain conditions that these worms prefer and will flourish at.
Why Vermicompost?
Vermicomposting is an invaluable technique for your homestead. It provides rich, healthy soil for your garden that'll help you produce the best harvest you've ever had. The plants will be more flavorful, healthier, and more plentiful because they're getting more nutrients. 
If you're not into that, you're actually promoting conservation and waste reduction efforts by providing the worms a safe place to grow and reproduce while reducing biomass.
Then if you are to put these into the soil, you'll be adding to the population and providing good soil for their expansion and the plants themselves.
It's an eco-friendly technique that mother nature will love you for!
How to Build Your Compost Bin: The Basics
The best way to learn about vermicompost is to do it yourself! Here are a few important things to keep in mind when building your compost bin setup.
1. Food Waste
For waste, try and use fruits and vegetables without peels. Ground egg shells and calcium are good too, but refrain from adding in bones or fecal matter because if they rot, it won't be good plus it'll attract pests. Nor does it do anything for your plants. 
2. Bedding
Your worms will need a medium to move through. This is newspaper, cardboard, manure, peat moss, etc. This is eaten by the worms but is consumed more slowly.
3. Moisture
Worms will need to be moist because they breathe through their skin. For this, dampen the bedding to keep the whole bin moist. Then make sure to sprinkle some water to maintain moisture. As soon as the moisture levels go down, the worms will try to escape. 
4. Watch the Temperature
Worms don't like it too hot or too cold. Between 55 and 75 degrees is good. Keep in mind that this setup is closed and self-regulating. This can come in handy if you just keep it out of the direct and away from frost.
5. Setting It Up
The setup is really easy. You can use one or two bins. (The two bin option is more popular.) With the two bin setup, you simply stack one on top of the other. Then you feed the top bin as soon as the bottom bin collects all the compost.
Then, as the bottom bin's last contents turn to compost, the worms move up the the top bin to eat more stuff while the lower bin can be emptied and placed back on top only to be filled once again.
Buy Instead of Build
If you're busy or don't feel confident making this setup, you can always buy one! Amazon is a great go-to, but there are a number of other sellers. Here are a few you may be interested in.
Where to Buy Best Compost Bin?
Amazon
Amazon is a great option. It has a number of compost bins for your needs. For example, they have a 5-Tray Worm Compost Bin and an Organic Compost Vermicomposter, both of which would be great for your kitchen!
Uncle Jim's Worm Farm
This seller specializes in selling vermicomposters and supplies, including the worms. They have so many options for indoor and outdoor setups. For indoor, try their Eco Worm Composter on Wheels or Hot Frog Living Composter. For outdoor, try their Exaco Juwel Austrian Compost Bin or Soil Saver Compost Bin.
Houzz
Houzz is another great option to purchase a compost bin. Houzz is known for having plenty of unique and modern house products, designs, etc at your disposal. They have onD in particular called the RELN Garden Worm Feast that you may be interested in if you're looking for something more modern to put in the house.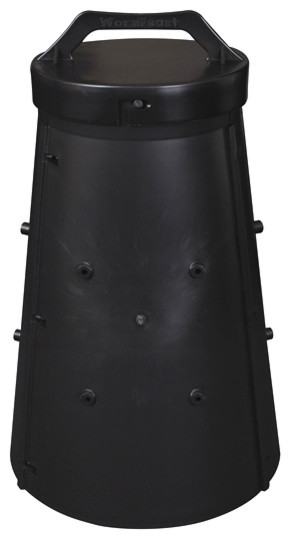 Purchase compost bins on Houzz
Etsy
What doesn't Etsy have? It even has vermicomposter options from sellers. Etsy promises unique handcrafted products from its sellers, and that's what you get with their vermicomposters. A few good options include a 3 Bin Worm Composter and the 5 Bin Worm Composter.
Conclusion
It's so worth it to try vermiculture and vermicomposting, especially if you're looking for natural fertilizer and are interested in composting but don't think you have the space.
Lindsey Hyland grew up in Arizona where she studied at the University of Arizona's Controlled Environment Agriculture Center.  She furthered her gardening education by working on various organic farms in both rural and urban settings.  She started UrbanOrganicYield.com to discuss gardening tips and tactics.  Whether it's succulents and houseplants or vegetables and herbs, growing and caring for just about anything in a garden gets her excited.  She is especially passionate about sustainable ways to better run small-scale farms, hydroponics, urban farming, and indoor gardening.